Tomato Varieties for the Home Garden

by Ron Gray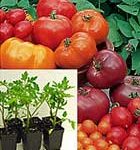 After reclaiming my vegetable garden following good spring rains, I decided to trial a number of tomato varieties.
My criteria were: Yield, pest and disease resistance, vigour, earliness, continuity of fruit and taste. The varieties chosen were Apollo, Tommy Toe, Summer Taste, Small Fry and Grosse Lisse. Two plants of each were planted on 31 October 2005. Grosse Lisse is a standard large fruited variety widely planted in Canberra. Apollo and the new release Summer Taste are hybrid varieties bearing regular sized fruit. Tommy Toe and Small Fry are cherry types with bite size fruits and a usually sweeter taste. A second planting of this type was planted on 5 December 2005 and the varieties were Sugar Yellow, Sweet Bite, Tommy Toe and Sundrop. A large fruited variety called Ron Bray given to me by Susan Parsons was also planted on the same day. All the plants grew well with very few problems and were trained on 1.8 metre tomato stakes.
Results:
Earliest to fruit: Tommy Toe, Apollo on 3rd week of January.
Latest to fruit: Grosse Lisse.
Most prolific: Small Fry, Sweet Bite.
Light crop: Sugar Yellow, Sundrop.
There was some premature leaf drop due to disease on Tommy Toe and Apollo which did not adversely affect the growth and yield of the plants. All the varieties were still producing plenty of fruit in mid March. Green vegetable bug (Nezara viridula) was a huge problem. Ripening fruit imparted a distasteful experience when sampling the affected fruit. The larger fruited varieties were particularly susceptible as the insect appeared to favour these varieties, particularly Grosse Lisse. I was disappointed with the variety 'Ron Bray', as it is less vigorous with rather bland tasting fruit of regular size. I saved some seed for next season to get a second opinion. Tasting of the cherry types was conducted by volunteers at our program meeting on 20 February 2006.

Results:
1st Sundrop
2nd Sweet Bite
3rd Tommy Toe
4th Small Fry
5th Sugar Yellow
Finally, I intend to grow varieties such as Burwood Prize and Graf Zeppelin next season, but will definitely continue with the cherry tomatoes as these provide large amounts of tasty fruit over a long season. It is a good idea to stagger the planting times. Later crops appear more pest and disease resistant and continue to provide fruit up to the early frosts.